We
Put
Coffee


In A

Watch

After more than a year of R&D, we've successfully created a one of a kind timepiece made with real infused coffee beans

In collaboration with Kaldi's Coffee, we're excited to introduce another industry first: we've put real coffee in a watch. Bronzed steelcore™endoskeleton encased in a ring of coffee using proprietary RIST, resin-infusing technology. Accented with a natural suberhide™ strap, this is elegant minimalism for the morning's conversation.

A collector's edition timepiece for the coffee lover in us all.

"
"Yes, the beans began to roast during the infusing process! To say that creating The Barista was a challenge is an understatement. Every experience we have had over the past 6 years was put to test. We are very proud to introduce a one of a kind timepiece that will forever change the way you look at your morning brew."
———
Salman Shah
design & material innovation
ORDER YOUR WATCH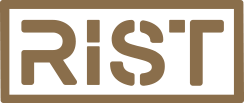 COFFEE

INFUSED
WITH

SOUL

Introducing RIST - Resin-Infusion Stabilization Technology - transforming premium roast coffee beans into wearable works of art.

Coffee infusion is a laborious, 96 hour process where natural beans transform. The beans roast, cool, and harden under vacuum while submerged in an activated resin bath. Infused beans are then poured into molds where they are bathed in a casting resin under high pressure. The entire process produces crystal clear blocks that resemble coffee beans suspended in ice. Final machining and hand polishing yield an impermeable finish with the discernable pattern of stacked coffee beans in cut cross-sections.

In search of good conversation this morning? Put the limited edition Barista on your wrist.

ORDER YOUR WATCH
See It Styled 40mm unisex design with removable strap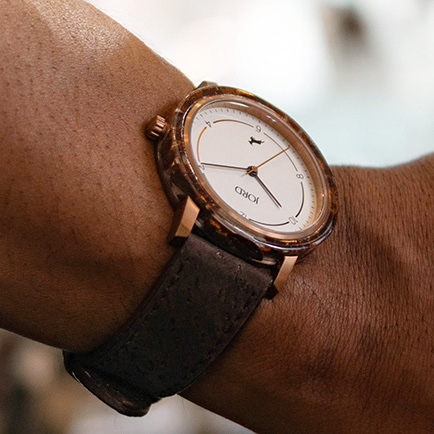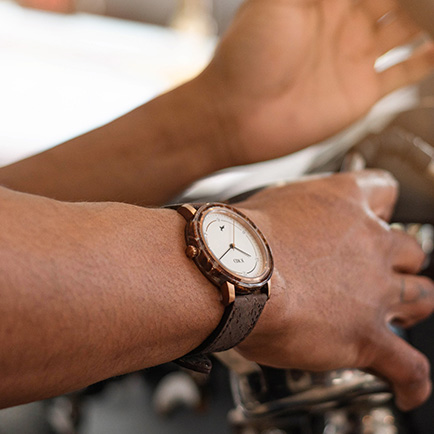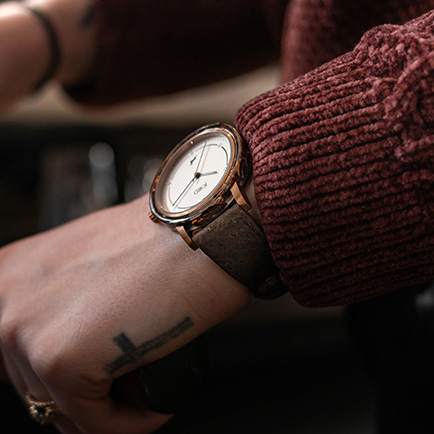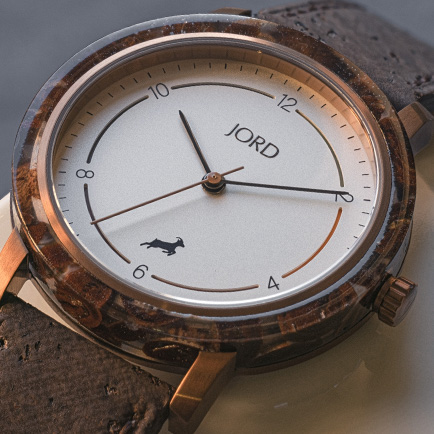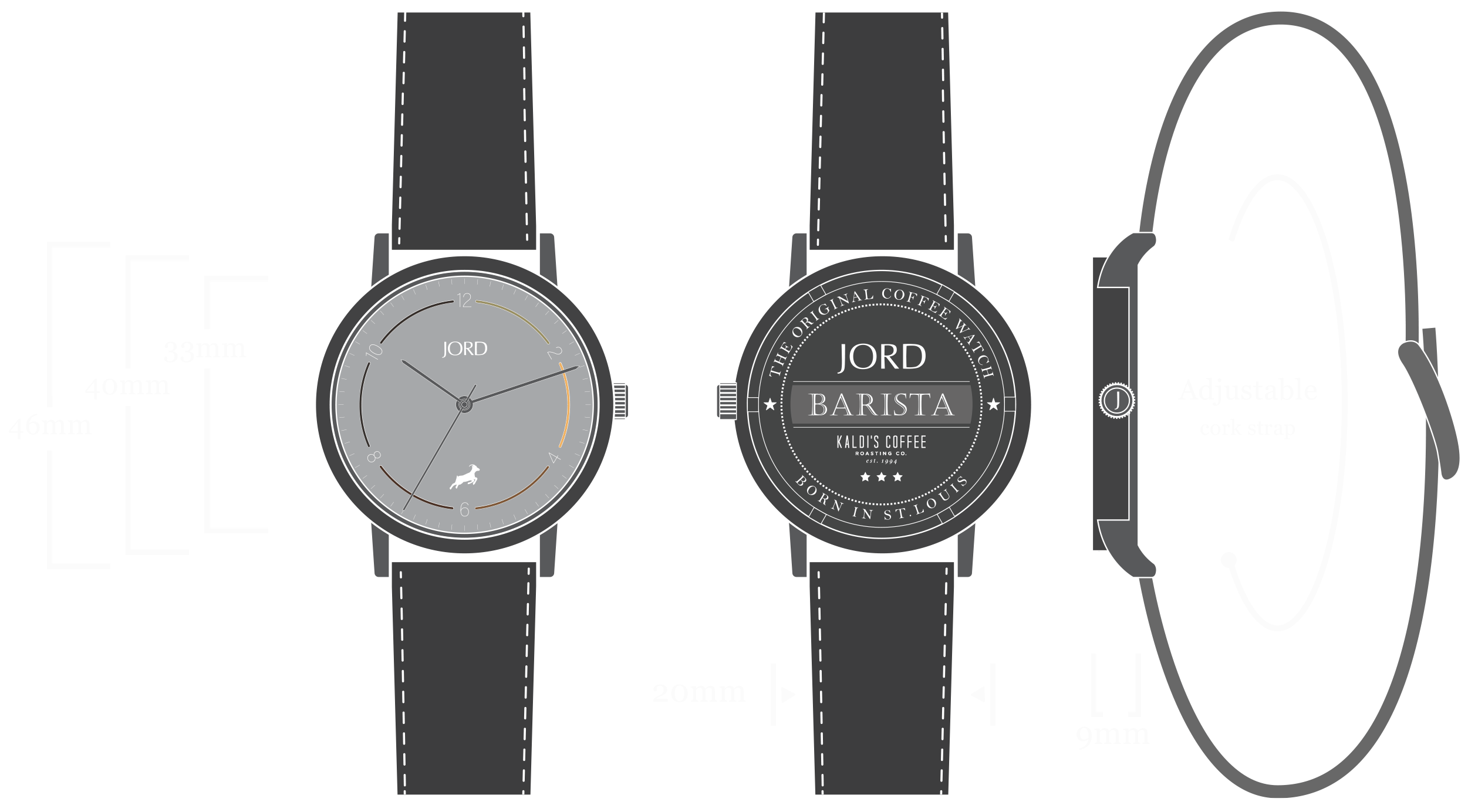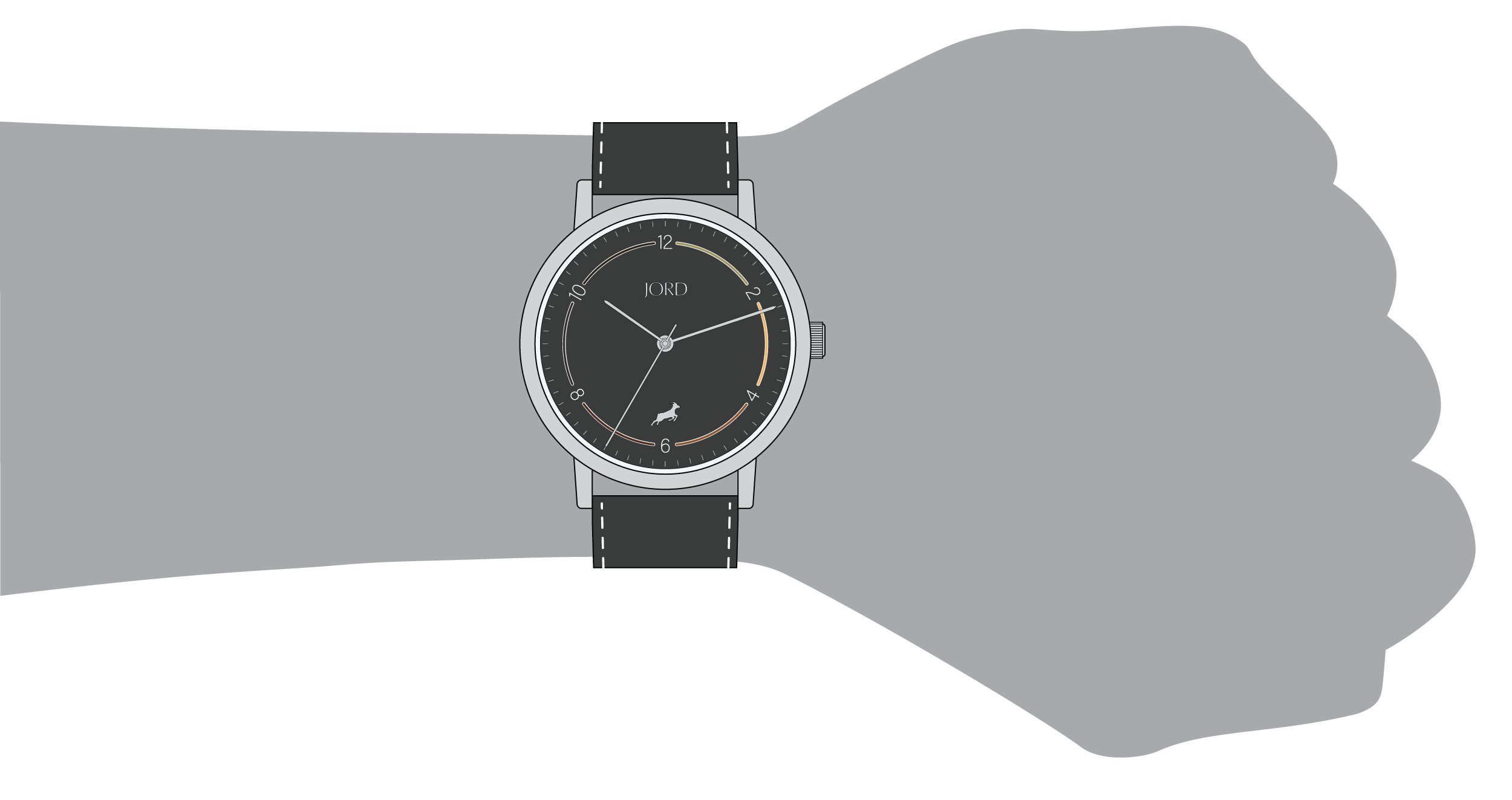 Model Number
J050Q1U
Limited production run
Crystal
Hardened Mineral
Diameter: 33mm
Strap
Suberhide cork-infused strap
Brown texture / tone
Quick release
Adjustable
20mm width
Movement
Citizen Miyota GL30
Frequency: 32,768 Hz
Battery: silver oxide SR621SW (364)
2-pole stepping motor
Case
Resin-infused coffee beans
Brushed bronze 304 anodized steel
46mm lug ends
Dial
40mm minimalist
Reserved inlets (bean roasting colors)
Warm white Satin-finish
hours - minutes - seconds
Clasp
Brushed bronze tang buckle
Design Elements Designed with purpose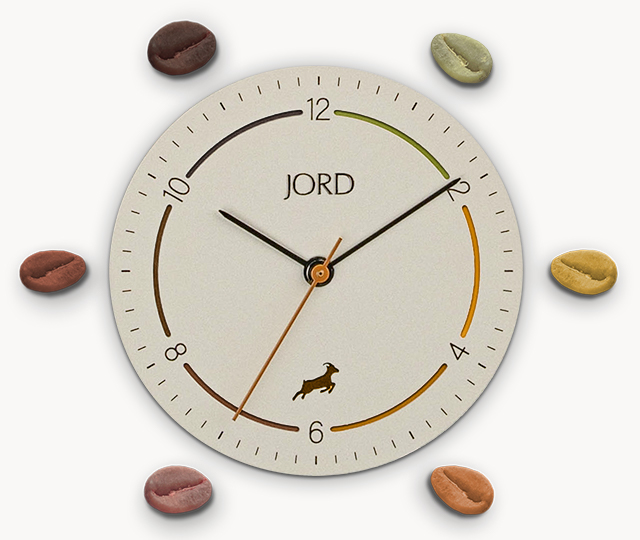 Roasting-Inspired Dial
The classy minimalist dial is not without design elements steeped in coffee. Recessed cuts in the dial expose 6 color variations depicting the various color changes in the coffee bean roasting process.
ORDER YOUR WATCH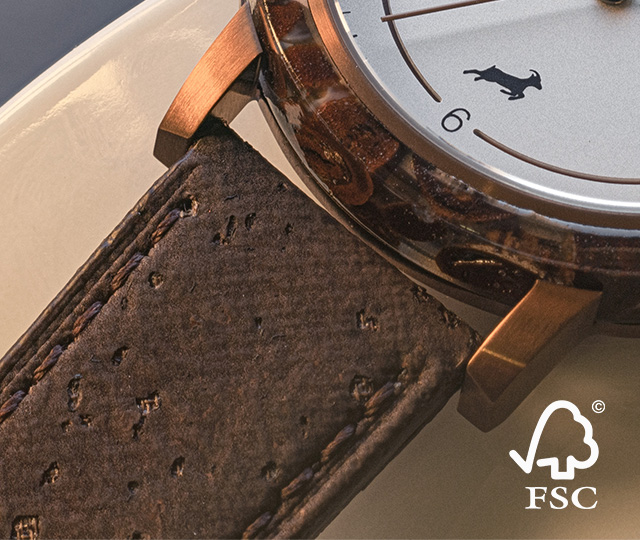 Cork-Infused Suberhide™ Strap
The soft, adjustable strap is made from premium Suberhide™: cork infused vegan leather. Rich hues and visible grain patterns offer a warm look. Our suberhide™ straps are 100% vegan and sustainable. Harvesting of natural cork is certified by the Forest Stewardship Council (FSC).
Limited Edition
PRICING & OPTIONS 40mm resin-infused quartz coffee watch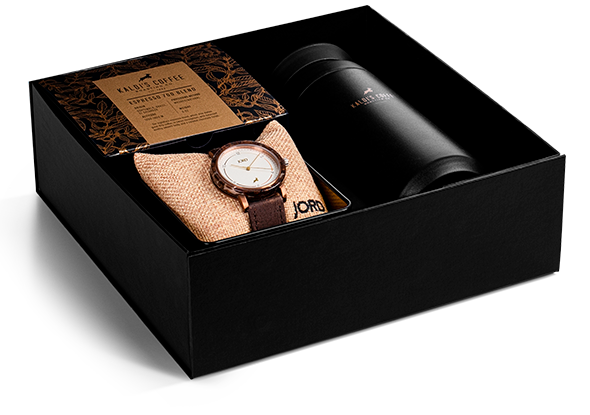 Gift Set
BARISTA
Barista Original Coffee Watch (Kaldi Edition)
Collector's Coffee Tin
14oz Stainless Steel Insulated Thermos
6oz bag of Kaldi Espresso 700 Blend Coffee
Complementary Gift Box

5 IN STOCK
ADD TO CART
$35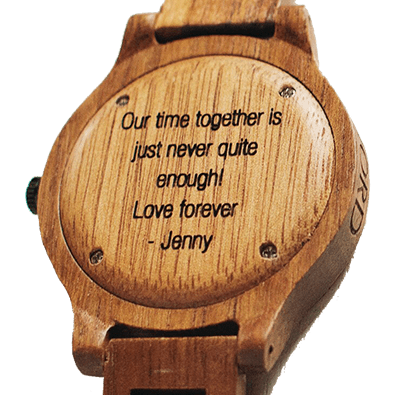 Sample image only. May not depict size, shape, or material of this watch's backplate
Personalized engraving is now available for the Barista Series! Your message will be engraved on the backplate of the watch. Learn more about our
watch engraving
.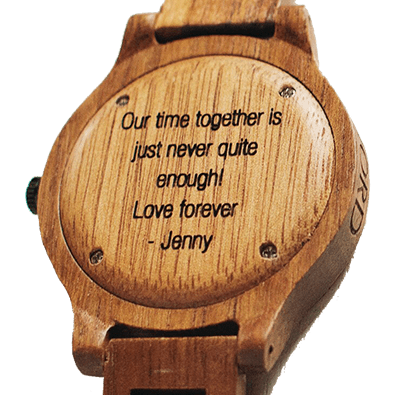 Sample image only. May not depict size, shape, or material of this watch's backplate
WATCH BOX ENGRAVING
-

$45
$45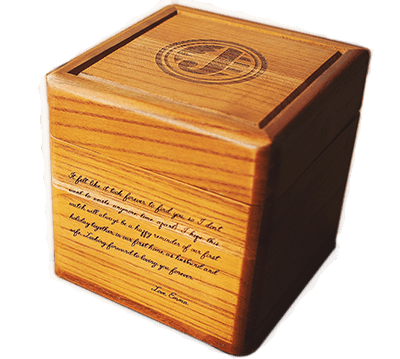 Engrave your cedar watch box with anything you want! Write a special note to the recipient, upload your logo/monogram, or provide a handwritten message to be engraved directly on the side of the box!